Most modern cars have air conditioning systems fitted as standard, keeping passengers cool during summer and helping to de-mist in winter by removing excess moisture from the cabin air.
Inefficient aircon systems which are low on refrigerant gas will cause your engine to work harder and thereby increase fuel consumption and CO2 emissions. Therefore, to maintain efficiency it is recommended that you should recharge your air conditioning system every two years.
Air-con recharge or re-gas is the removing the old refrigerant gas from your air conditioning system and replacing it with new refrigerant gas, so that your vehicles air conditioning runs cold and efficient again.
The EU Mobile Air Conditioning (MAC) Directive of 2006 aimed to introduce measures that limited emissions of certain greenhouse gases from car air conditioning and reduce their impact on climate change. From 2011, it stated that all new vehicle types had to be built using a refrigerant gas with a Global Warming Potential below 150.
From 2017, this ruling had to be rolled out across all new vehicles produced and is required by law for all new vehicles.
Global Warming potential measurement is used to measure the potential impact of the gas if it is released to the atmosphere.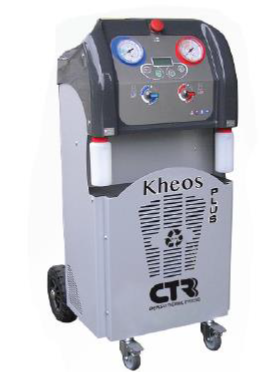 There are two types of refrigerant gases used in vehicle air con systems: R1234yf and R134a. These are NOT interchangeable or retro fit.
R134a is a refrigerant that was used in older vehicles and those vehicle models that weren't updated any time before 2017. There is very much a need for R134a refrigerant when top ups or re-gassing is required for pre 2017 vehicles with air con, as the new gas R1234yf is not a retrofit option for these vehicles.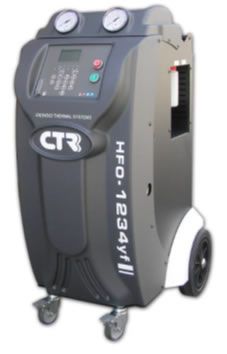 Modern vehicles use R1234yf gas which meets the EU MAC Directive requirement to use a refrigerant gas with a Global Warming Potential of less than 150 in new vehicles. From 2017 all new vehicle types had to be built using a refrigerant gas with a Global Warming Potential below 150. And is required by law for all new vehicles. R1234yf is the refrigerant that meets the EU MAC Directive requirement and is used in every single new car manufactured for the EU market from 2017.
Some car makers switched some years ago and already need the latest gas when servicing the air con system.
Connections on the vehicles are different between these two systems to avoid any mix up and errors. It is therefore necessary to have both machines in order to give maximum coverage to motorists .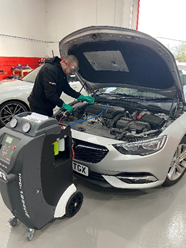 Training
Our staff are fully trained in the use of these two refrigerant gas systems with Level 1 City & Guilds safe handling of refrigerants on site and Level 2 City & Guilds diagnostic and repair, this includes working with air conditioning systems for electric vehicles as well as post 2017 vehicles.
Why does it stop working?
-The gas in the air con system is very important and works like a fridge. The gas changes from liquid to gas to liquid and over time breaks down and becomes less effective. Having an air con service every couple of years will keep it working effectively.
- The most common issue is low gas and that's the easiest to fix! Keep the gas checked every two years, to keep the air con working (summer and winter) and the system lubricated to avoid any nasty expensive failures of compressors, condensers or valves.